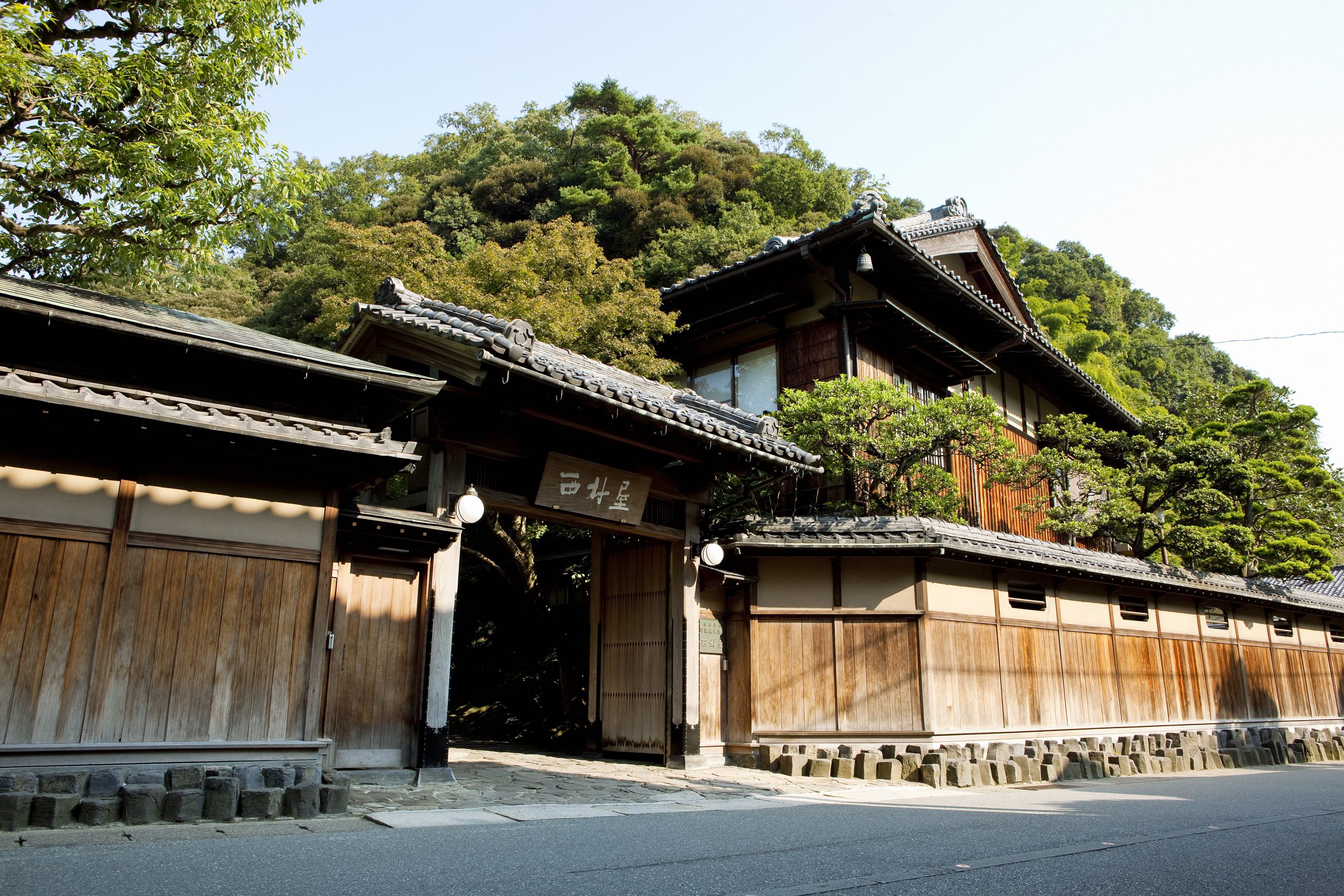 The oldest hotel in the world is a ryokan. These traditional Japanese inns date back to medieval times and weary samurai travelers. Some ryokans have turned an eye toward the future. Others, like Nishimuraya Honkan, have not.
The last we wrote about the ryokan, we wrote about their reinvention, noting how the classic experience of the ryokan has, in many cases, evolved to satisfy modern sensibilities: dinner served in a restaurant instead of in-room, western beds instead of futons, cutting-edge design in place of traditional features like shoji doors and tatami mats.
Then there are ryokans like Nishimuraya Honkan.
Two hours from Kyoto, in the little spa town of town of Kinosaki Onsen, Nishimuraya Honkan builds its reputation on spectacular execution of the historical hallmarks that define a ryokan. Not to say it eschews electricity or other such modern comforts — this is a luxury boutique hotel, without question. It just happens to be a luxury boutique hotel whose charms are best experienced from the floor.
It's from the floor that you'll most enjoy the perks and particulars of Nishimuraya Honkan's design — especially the rustic simplicity of sukiya, a form of architecture made famous by Japan's iconic tea houses. "When you enter [room 51, one of the traditional room types], at first you think it is just another guest room," explains Colin Fukai, marketing director at Nishimuraya Honkan. But sit down and another world opens up to you. Planted on a tatami mat, you become eye level with the gorgeous pond and garden of the neighboring suite. That neighboring suite is built on stilts, specifically for the purpose of sharing its garden view without betraying the privacy of the guest room itself.
Investigate the Matsu Suite, meanwhile, and you'll find a window above the stairs that frames a pine tree — a natural and consciously designed device to encourage appreciation of the seasons.
"I imagine it is kind of funny to see that one of the top 'features' of a suite is the shadow a tree casts on the wall at a certain time of day," laughs Fukai. But, "it does represent the importance of both nature and the 'simple yet deep' [concept] when it comes to Japanese guest room architecture."
In its seventh-generation of ownership after its founding in 1854, praised on list after list of the most beautiful or most luxurious ryokan in the world, it's not wrong to call Nishimuraya Honkan traditional. But in some ways, your word choice depends on your perspective. "Foreign guests would probably label it 'traditional' while domestic guests would probably say 'retro,'" muses Fukai.
It's a clarification that cuts to just how easy it is to romanticize the culture a ryokan represents without completely understanding its context, or the commitment it takes to conjure this type of luxury experience. The reasons other ryokan have moved on from certain practices are not always purely stylistic. Fukai cites a decreasing Japanese population as one reason some ryokan have had to slim down their staff and operations, and why dining halls sometimes replace the retro practice of one-on-one meals in the guest rooms. But at Nishimuraya Honkan, it's exactly that type of intimate interaction between staff and guest that's still prized above all else.
Each room has its own attendant, a personal concierge (nakai-san or heyakakari-san in Japanese) to help you get acquainted with the place and the town. And if you find that concierge asking about your evening plans, it's not idle small talk. The room attendant doesn't just serve your evening meal — an elaborate, two-hour, multi-course kaiseki dinner that features (depending on the season) the Matsuba crab or Tajima beef that makes this region famous — they clear away the table too to convert your dining room into a bedroom.
The design, the service, and details like the gorgeous public garden dotted with lanterns and koi contribute to a particularly tranquil way of experiencing the world. The requisite onsen (hot spring baths) are another. But here, the ease and comfort of the experience again mask the give and take between traditional experience and contemporary demands. Historically, ryokan in Kinosaki never featured their own onsen baths, instead guiding visitors to the seven public ones around town. The town's services appreciated the foot traffic, and the arrangement ensured the precious natural waters weren't over-tapped.
But with more and more guests finding Kinosaki easily accessible by train, demand built for on-site onsen. Fukai compares the expectation of a ryokan to have its own onsen with that of a hotel in Las Vegas to have its own casino. Eventually, town leaders compromised: ryokans could have their own hot spring baths, but they'd be limited in size — and never private to one guest room.
It's a balance that works for the ryokan and the town both, and gives the ryokan here perhaps a different flavor than those in major cities. You can visit Nishimuraya's own three hot spring baths, but you're likely go out and enjoy the town's, too. To that end, you'll get a free pass that gives you access for the duration of your stay. And instead of holing up, no matter how comfortable it is back in you're room, you'll probably find it just as charming to walk along the willow and cherry blossom-lined river, towards your next bath, your yukata robe the only thing keeping you modest.
Call it retro, call it traditional — either way, says Fukai — if you're looking for the "lost charm" of the past, this is the place to find it. ▪

Book Nishimuraya Honkan on Tablet Hotels.