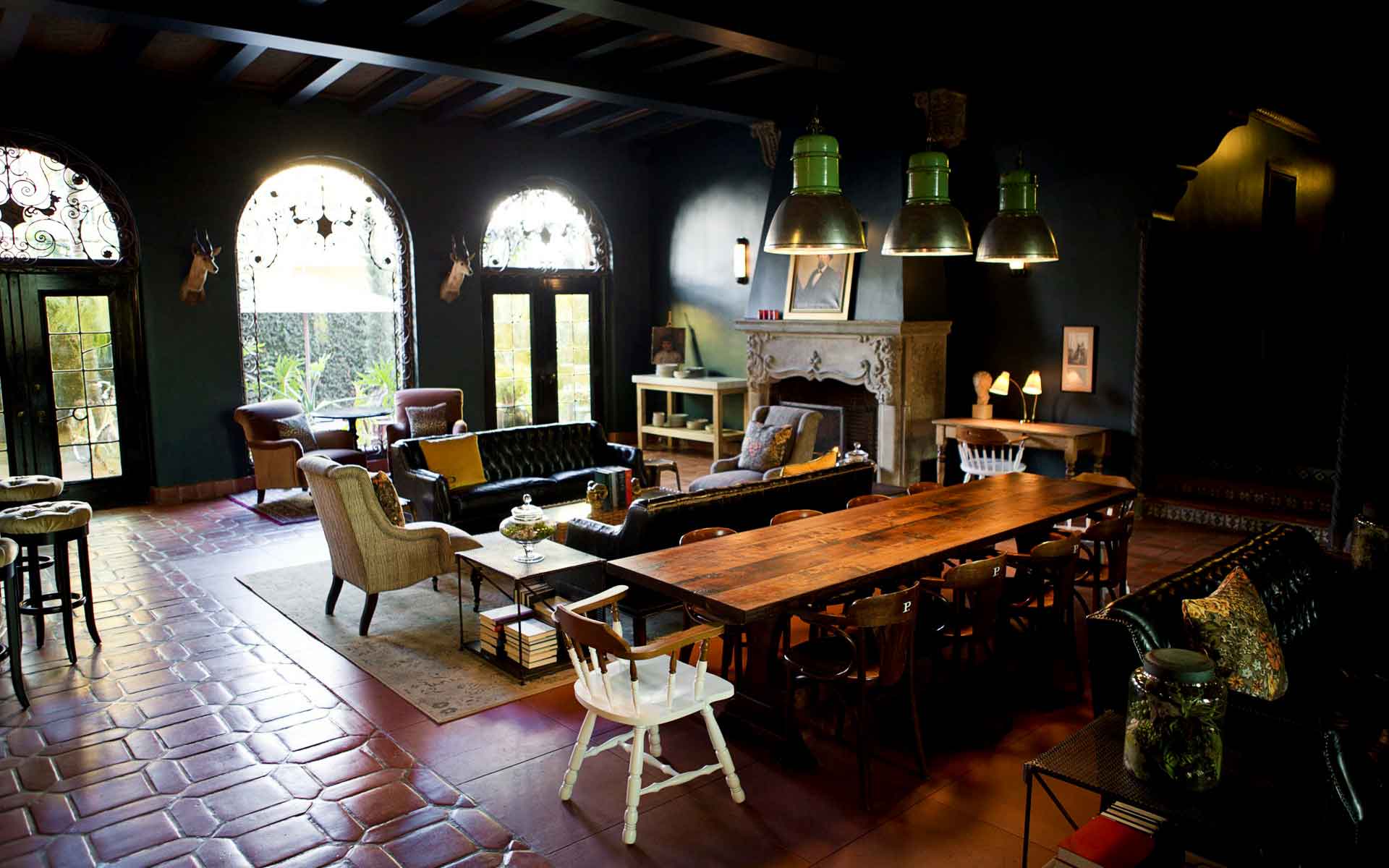 The word "bespoke" conjures up images of intimacy and a high degree of detail. Can it also be used to define a hotel group that's in the midst of a significant expansion? Palisociety is rising to that challenge.
Webster's defines "bespoke" as: dealing in or producing custom-made articles. Made for a particular customer or user. Made-to-measure. This could also define the Palisociety. Each Pali hotel is designed with a certain clientele in mind, and designed too for each setting, aiming for a perfect fit right down to the neighborhood.
A tailored feel is easy to achieve in small doses; it's much harder to maintain through the kind of expansion Palisociety is planning. They began quickly enough, opening three hotels in a period of five years. But since late 2018, they've opened another six, with two more in the works and dreams of dozens more to come. And while that kind of rapid growth might erode a less defined brand, each of the Pali properties remain thoughtfully designed and specifically setting-inspired. Custom-fit to their locations.
Bespoke.
How they have retained that consistency — or, as Vogue calls it, their "signature eclectic style" — is in large part thanks to the hands-on approach of the owner, Avi Brosh. The New Jersey native's fingerprints can be found in every corner of every room, often literally. He curates and directly oversees all aspects of design in all of his hotels, with no intention of letting up. We spoke with him to find out how and why he does it.
First, another definition: in the Pali world, a Palihouse indicates the presence of suites — complete with essentials like kitchenettes and washer/driers — while a Palihotel is, as the name suggests, a more traditional hotel. The goal of both, according to Avi Brosh, is to be the hotel that locals recommend to their friends visiting town.
A former real-estate developer, Brosh has been lauded his entire career for his interior-design sense, but he's quick to point out he has no formal training. "I am not a classically trained designer by any means," he once told Hospitality Design magazine. "I just know what I like." What he likes: unexpected combinations of decor, whimsical touches that blend together irrespective of time period, and eye-catching design that plays off the backdrop.
In fact, Brosh's own personality sometimes bursts through his hotels quite explicitly. By way of example, the New York Times cited a "pewter loving cup [brimming] with bright yellow tennis balls" in the Culver City location, a "nod to Mr. Brosh's passion for the game," despite the fact that there is no tennis court at Palihotel Culver City. In a more general sense, Brosh adds that the indoor/outdoor cocktail bar at that same hotel, with its blue walls, red leather, and light-strewn tree particularly personifies his design instincts.
Other words that come up frequently when discussing the Palisociety — ones we won't bother to define — are residential and pied-a-terre. That might have something to do with another of Brosh's inclinations, which is to imagine a specific person, one who's lived in the space for years and so accumulated various objects and personal effects. Hence the interesting turns of phrase — "touches of flea market art" and "taxidermy nick-knacks" — you'll find in reviews for a place like Palihotel Melrose.
"Every market that I'm in," Brosh elaborates, "I have a story about who that person is, or who that family is, or who that tribe of people are, and what was valuable to them. Every space that you go in, there's a little bit of a story there."
It's not an exact science, and more than a little has to do with instinct. But Brosh isn't designing in a vacuum. His eclectic style is in service of a more specific, more bespoke cause. "The bottom line is I put in the time and energy to understand how every hotel will add value to each neighborhood we inhabit," he tells Tablet.
In that sense, each hotel is a reaction and a solution to its particular context. In Miami, the Palihouse is stylish but relaxed, a respite from the "fashion-show, velvet-rope" vibe of Miami Beach. In Melrose, it's a "trendy hipster haven" amidst the busy shopping district. And in Seattle, it's a retro, vintage, and overwhelmingly welcoming (couches, greenery, bookcases) space in the heart of the tourist scene.
It's these two motivations — eclectic design and legitimate utility to its neighborhood — that come together to form the Pali ethos. "I think a lot about how we can reflect something that's relevant and beautiful and trusty," says Brosh. "But, at the end of the day, I also focus on putting my spin on whatever that is." As his many repeat customers can attest, they're "counting on me to interpret each neighborhood through my filter."
In 2018, Brosh was asked what he brought to the brand that distinguished it from other mini-chain boutiques. His answer was that he's the "gatekeeper on all the design and place-making aspects. Every piece of furniture, every flooring detail, every wallpaper pattern has to go through me."
But as anyone who looks at the development timeline can clearly see, the Palisociety is an ambitious one. Just a few years ago, when his count was at three, Brosh set a goal to open 30 hotels in ten years. There's a tension there between personal oversight of design and a pace of such rapid expansion, but it's one that he insists is not a problem, quick to point out that he has plenty of help from his design and development team.
"I typically start each project with a collection of images that set a tone for the story of each hotel," he explains. "That's my way of pointing everyone in the right direction from a design and 'placemaking' perspective." From there, the team begins to evolve the idea in a logistical sense, before circling back with specific items and details. It's certainly proven a sound process so far, and there's nothing more important to Brosh than a sound process. Perhaps influenced by his years as a real-estate developer, he has insisted that you have "to get the math right if you want to keep doing projects."
It's natural then that when you bring up any questions about rapid expansion encroaching on creative control, he counters with an equation.
"Palisociety just opened successfully six new hotels over the last twelve calendar months, each of which was very carefully designed in the most bespoke way by me, but of course with my design and development team. If you do the math, if we do another three or four a year for five or six years, I have no doubt we can maintain the level of intention and standard of design Palisociety has become recognized for."
Bespoke, eclectic, and now mathematical — just add it to the list of definitions for Palisociety.
Palihotel Melrose Avenue
Los Angeles, CA
Without the focus on longer stays seen at some of the other Pali properties, Palihotel Melrose operates like a classic boutique, sporting a decade-spanning, bohemian-rustic style on a stretch of Melrose known as a shopping paradise. A former seniors' residence built in the 1960s, it's an example of the Paligroup's penchant for transforming worn buildings into fresh social hubs, and the casual Southern-style restaurant, The Hart and the Hunter, is certainly that — its power to draw a crowd multiplied by the scent of warm, buttery biscuits occasionally wafting outside.

Palihouse Santa Monica
Los Angeles, CA
Tucked away on a residential street a few blocks from the busy scene at the beach and the promenade, Palihouse Santa Monica turns a historic 1927 Mediterranean Revival masterpiece into a tranquil, contemporary, highly livable retreat. Depending on your chosen room type, you could treat your space like a pied-à-terre, entertaining and, to a certain extent, taking care of yourself — but if you'd rather be made to feel like you're very much on vacation, with day-to-day chores such as cooking better left back home, Palihouse is more than up to the task.

Palihotel Seattle
Seattle, Washington
The Paligroup's first foray outside of Los Angeles found them at 1st and Pine, about as close as you can get to the famous Pike Place Market without running the risk of being hit by a thrown fish. The accessible vibe, with plenty of vintage cool, is a welcome antidote to the location, and the luxe details don't hurt either.

Palihotel Culver City
Los Angeles, California
When we first launched Tablet the idea of a boutique hotel in Culver City would have been a shocking one — this is just far enough off the Hollywood–Beverly Hills–Santa Monica axis to have been home to the Sony movie studios and not much else. But today's Culver City is suddenly hip, with great restaurants and nightlife as well as plentiful lifestyle and apparel shopping. The Paligroup heeded the call, adapting the 1920s-vintage West End Hotel into the modern-classic (and still Art Deco–influenced) Palihotel Culver City.

Silver Lake Pool & Inn
Los Angeles, California
In the heart of one of the most desirable neighborhoods in Los Angeles, the Paligroup took a truly undistinguished 1980s motel and transformed it, as they do, into a chic little design oasis. The result is light, bright, and welcoming — a modern-classic L.A. residential look with influences from Palm Springs and Mexico City. In lieu of their typical restaurant or lobby lounge, the gathering spot here is the elevated pool deck, a rare but welcome luxury in this part of town.

Palihotel Westwood Village
Los Angeles, California
Westwood Village is in some ways a classic university town, home to the community around UCLA. That's the central concept of Palihotel Westwood Village, a boutique hotel that's got more in common with a particularly stylish university-town boarding house than with the opulent luxury hotels in Hollywood. With particular emphasis on the "stylish" part. Here, the 1939 building — Westwood Village's first hotel — becomes a blend of Parisian romance and mid-century modernism.

Palihouse Miami Beach
Miami, Florida
In a restored Art Deco building in the newly christened Faena District of Miami Beach, here the Paligroup establishes what's probably the most laid-back place on the East Coast. The rooms are low-key but quite stylish, and though they avoid all the clichés of Miami hospitality design, they certainly don't feel out of place. Some travelers may well prefer the fashion-show velvet-rope atmosphere of some other Miami boutique hotels, but for many the casual-chic Palihouse is likely to become a favorite.

Palihotel San Francisco
San Francisco, California
Joining Seattle and Miami Beach as the first Pali properties outside of Los Angeles, San Francisco is a city that's well suited to the Pali aesthetic — not only is it a young and vibrant, with a constantly booming tech sector that's open to the brand's laid-back, low-frills approach to luxury, but it's also got a bohemian heritage with plenty of cultural history to draw on. In a century-old building in a centrally located neighborhood, the Paligroup flaunts a style that's 20th-century California in a nutshell: Victorian architecture made modern by Craftsman-style warmth and simplicity.

Palihouse Santa Barbara
Santa Barbara, CA
At the newest Palihouse to join the society, you'll find what they call "vintage preppy meets American riviera," an apt description for the vintage-inspired, tweedy-yet-sunny décor and the elegantly casual atmosphere. The 24 rooms and suites surround a tranquil central courtyard or sparkling pool area, and they're uniformly spacious and sunny, with fireplaces, private patios or gardens, and at the higher end kitchenettes and dining tables.