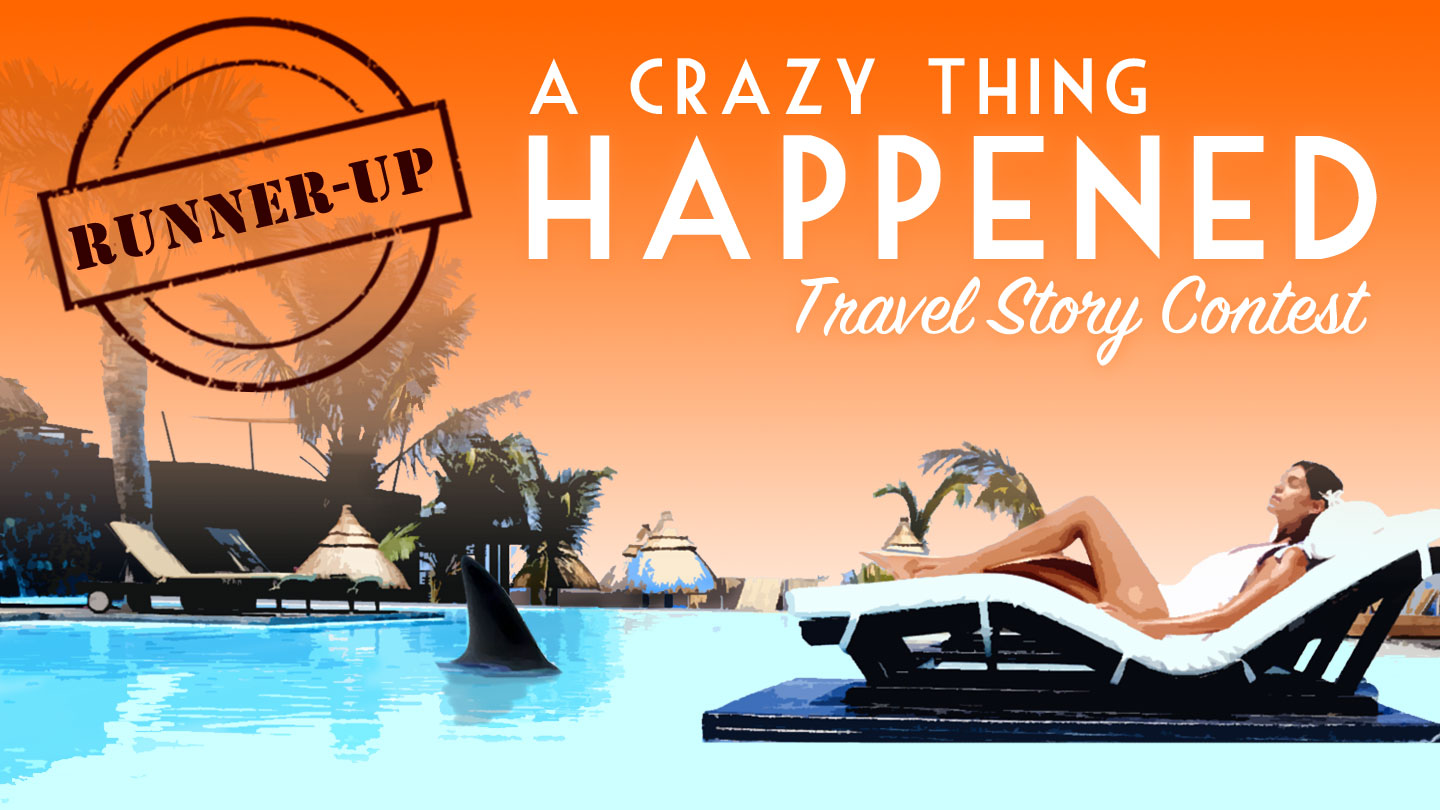 NIGHT TRAIN TO MOMBASA by LOREN STEPHENS
A happy marriage is a mystery. My husband and I had warp-sped through the honeymoon stage and found ourselves bobbing about in a sea of recrimination, retribution and resentment. We needed a fix and a three-week trip to East Africa capped off by an overnight train ride from Nairobi to Mombasa sounded like the perfect romantic adventure. I imagined myself the heroine of a Graham Greene novel, leaning out the train window watching a herd of antelope silhouetted against the setting equatorial sun, my husband's lips pressed against my cheek. Our marriage would be reborn in the dark jungle of East Africa. Together we would decode the DNA of our fragile, three-year union.
On our last night at the Norfolk Hotel in Nairobi, my husband and I sat alone in the bar. The piano player asked us if we'd like to hear something. I said, "Do you know 'So In Love,' by Cole Porter?" He put his cigarette down and sang: "Strange dear/ But true dear/ When I'm close to you dear/ The stars fill the skies/ So in love with you am I." To my husband's great embarrassment, I sang along. He finished his martini and then announced that he was going to bed. I thanked the piano player and followed my Norman across the manicured lawn to our bungalow. The sounds of the cicadas took over from the melody. The August moon was so bright that we didn't need our flashlights – standard issue for all guests as a precaution against stepping on a poisonous snake.
We undressed and slipped between the freshly ironed sheets. Within minutes, Norman was snoring.
I kept my light on and read a few pages of Isak Dinesen. As an idealistic newlywed, she wrote of her early days in Kenya on a coffee plantation, "Here was a new kind of freedom which until then one had only found in dreams." That is, until she discovered that her handsome, aristocratic husband had been unfaithful. As a parting gift before they divorced, he gave her a case of syphilis. I heard a couple whispering and laughing as they passed by our window, and in the distance, the melody of "Long Ago and Far Away": "Just one look and then I knew/ That all I longed for long ago/ Was you."
At five o'clock the next afternoon, our driver and guide, Peter Kamu, picked us up to drive us to the railroad station. The guidebook promised a magical mystery tour back in time on the Iron Serpent (the train connecting one former British colonial territory to another) with waiters in white coats, formal service, and an exotic destination of winding streets, minarets, and azure blue bays. It was a break from the drives we had taken across dusty roads between safari camps. Even in our own private van with Peter at the wheel, traveling across Kenya and Tanzania in the dry season was arduous. We were constantly avoiding overcrowded, zebra-striped tour buses packed with camera-touting tourists and foot-deep ruts that caused our van to sway precariously from side to side. I was in a perpetual state of vertigo and had developed a bad cough from all the dust seeping through the van windows. Norman was suffering from allergies. We kept running out of Kleenex and aspirin.
But why complain? We had a private VW van and a competent driver eager to please and proud to show off his diplomatic negotiating skills. They came in handy: Peter was a sweet-smiling Kikuyu with enough savvy to bribe government officials at the borders. He knew how to argue with hotel clerks if our reservations mysteriously disappeared.
Passing through Nakuru, an early stop on our itinerary, we saw billboards announcing that Jomo Kenyatta, Kenya's president, was giving a speech. The town was decorated with red, white and green bunting and bleachers had been erected to accommodate his supporters. Peter offered to drive us back there after we settled in at the Keekorok Hunting Lodge. I had no interest in getting caught in a crowd and forfeiting a day in the bush.
Norman said, "You don't mind if I take in the local color? You and I have been spending an awful lot of time together, and it might be fun to hang out with Peter. He knows a bar where we can get some good, native beer." "No, go ahead. I've got The Flame Trees of Thika to keep me company."
The truth was, I felt abandoned and hurt. Wasn't this trip supposed to be a lot of togetherness? Our life back home had gotten so complicated that we had to make dates to see one another, and we seemed to be spending more and more time apart. Home was a place to wash laundry and repack our bags for the next business trip. We had also put off having a child until I felt financially secure. Norman was against my terminating our pregnancy the first year we were married, but I was adamant. He asked, "You don't have confidence in me, do you?" I told him, "How do you expect us to live on your salary alone? Besides, I am not going to put our baby in a day care center so that I can continue working." We never spoke of the abortion again.
I sat on the veranda of our hunting lodge listening to the guests talk about the plight of the white farmers who were being attacked by Idi Amin's henchmen in neighboring Uganda. Although we were miles from the border, their conversation was unsettling. I was relieved when Norman and Peter got back at dusk. Over dinner, we watched the elephants taking a shower and giraffes nibbling the topmost leaves. Birds sat on the parapet hoping for a handout of freshly baked bread.
"Kenyatta never showed up, but the District Commissioner gave a speech anyway. Peter and I had a 'jolly good time' this afternoon playing darts and checkers." "I was worried about you. It was getting late." I waited for some reassurance that he was concerned about me, too, since my cough had gotten worse, and I was feeling woozy. He said nothing.
###
Peter loaded our luggage into our van for the drive to the Nairobi Railroad Station to catch the six o'clock southbound train to Mombasa. Along the way, we witnessed an accident. At a roundabout, an Indian driver wearing the white turban of a Sikh hit an African riding a bicycle. Traffic backed up. A policeman in a starched tan uniform blew his whistle and waved his billy club, yelling, "Get your bicycle out of the road." The bicyclist carried his bicycle to the side of the road; the front spokes were mangled and his arm was bleeding. The policeman waved the Indian on.
I asked, "Won't the driver get a ticket?" Peter answered, "No, this is Kenya. British first, Indians second and Kikuyus at the bottom of the pile." He added, "Don't worry. We won't be late. The train to Mombasa is never on time." Peter had gotten to know me well. I was the worrier, always double-checking reservations, while Norman was much more laissez-faire, expecting me to take care of all the details.
Peter carried our luggage onto the platform. In his best English, he said, "You have been the nicest Americans I ever met." I gave him a 500-shilling tip and asked him for his address, which he wrote down in my travel log. Later Norman said, "He probably tells all his customers the same thing. And do you really have any intention of writing to him? You'll get back to Boston and forget all about him."
At 6:30 the train arrived. Its black locomotive belched steam and soot into the warm evening air as the waiting passengers pushed their way into the first- and second-class compartments. We found our compartment in the first-class section, and Peter hoisted our luggage through the window. Within a few minutes the whistle signaled our departure. Peter wished us a safe journey: "Goodbye Mr. Bwana, sir; Goodbye Mrs. Bibi, Madame." I leaned out of the window waving until the smoke enveloped him and it was just Norman and me alone on the train. The conductor knocked on the door of our compartment, punched our tickets and stamped our passports. We had paid extra for bed linens, pillows, deluxe mattresses, dinner and breakfast. With four suitcases and Norman's camera equipment, there was barely enough room for us to turn around.
Norman said, "Mind taking the upper berth? That way I can guard the door in case somebody tries to break in during the night." "Try the lock. It looks pretty sturdy. Maybe we could share the lower berth?" "These beds are meant for one person." "Do you mean, 'No sex, please, we're British?'"
I regretted this clumsy remark, but I was tired of censoring myself. "Are you keeping score? If you are, may I remind you that neither of us has been feeling well – what with the food, the altitude and the dust?" Norman was not prepared to discuss our dwindling intimacy, especially in such close quarters, and without a referee. We were like parallel train tracks, heading in the same direction but never touching.
The ringing of the dinner chimes interrupted us, signaling the first seating in the dining car. We chose the second seating since we wanted to see the countryside before it got too dark, and it was really too early to eat or go to sleep.
At the second dinner chime, we staggered down the narrow corridor, fighting the swaying of the train, to the nearly empty dining car. The dining-room tables were covered in white linen and set with china engraved with the British Railway insignia. The silverware was polished and the menus were presented to us in leather binders. The meal was standard British fare: bouillon, pork roast, fish and vanilla custard in caramel sauce followed by an assortment of English teas.
It was hard to carry on a conversation over the grinding of the wheels moving along the tracks. I tried making a joke about the food. "Where's the roast topi?" (an inedible piece of antelope that was the centerpiece of our dinner at the Fort Ikoma Lodge in the Serengeti). For a moment, the sound of the train faded away, and I imagined the noises of the jungle growing louder as the moon rose above the horizon, touching the stars as in a dream. Norman was somewhere else, too. For some time, I suspected that he was having an affair. Months earlier, when I questioned him, he had denied it. Norman was a good poker player, and, as it turned out, a convincing liar.
When we returned to our compartment it was pitch black except for the kerosene lamps that swung precariously on the wall. Our beds had been turned down and there were hot water bottles tucked between the sheets despite the heat of an August night; housekeeping routines did not change with the seasons. I grabbed the hot water bottle by the neck and dropped it on the floor. It landed with a sloshing noise, nearly hitting Norman on the head in the lower berth. "Are you trying to kill me?" "No, just hoping to get your attention, but apparently I'm not doing a very good job of it. Good night."
When in a marriage do you accept that your husband is not the person that you longed for and dreamed of? I wasn't ready to answer this question.
###
Throughout the night, the train stopped at every town along the route – I could hear the conductor yelling "Emali, Makindo, Mtito Andei, Mariakani." Swahili's favorite consonants are K and M and I counted 20 "M's" and 15 "K's" by morning. At six o'clock we were the first passengers in the dining car. Breakfast was a runny mound of powdered eggs and buttered toast served in a silver rack with a plated assortment of jams and jellies from Fortnum & Mason.
Norman said, "I'm glad that we're flying back to Nairobi. I couldn't take another twelve hours on this train." "Well, bwana, why don't you plan our next trip?" I was shocked at the tone of my voice.
I stared out the window as the train slowed down. There were hundreds of people standing alongside the tracks waving, and ditch diggers stopped their work as the train passed by. It was 8:30 by the time the train pulled into the Mombasa station. A driver stood on the train platform carrying a sign reading "Mr. and Mrs. Stephens."
I felt dirty, cranky and hungry after a restless night and a government-issue breakfast. Norman and I got into the car and told our driver to give us a quick tour of Mombasa before we headed up the coast to Malindi, the last stop on our trip.
The shops in Mombasa were open early for business to avoid the heat and take advantage of the arriving passengers. We stopped the car and walked along the streets. I smelled exotic spices — saffron, coriander, and paprika — drifting from the dark alleyways. This was not a friendly city, but you could buy Oriental rugs, Chinese celadon pottery and carved African statues. I wanted to find an antique chair from the island of Lamu. I had seen several at the Djinn Palace on Lake Naivasha, where we had stayed with a Dutch farmer and his wife for an evening.
Our driver took us to Studio Sana in Old Town, near one of Mombasa's many mosques. A handsome African was smoking a cigarette and listening to a recording of Miles Davis playing "'Round Midnight." He reminded me of the men I saw hanging out at jazz clubs in Greenwich Village. He didn't seem particularly interested in making a sale. I looked over the shop's inventory, but nothing appealed to me. He told us to go to the shop owner's house and gave us directions. Norman was losing his patience with me. "You've seen one, you've seem 'em all. These chairs look fine to me." I was not going to be deterred.
Owen Barton's beachfront house on the Indian Ocean had a redwood roof that floated over the rooms. Two large carriage lanterns flanked the carved front door, and a vintage white Rolls-Royce was parked in the circular driveway. When we arrived, Mr. Barton was clipping his poodle's hair. He was wearing a flowing caftan and his steel-gray hair was neatly combed, as if he expected Noël Coward to pop in on him at any moment rather than two bedraggled American tourists in search of an oversized souvenir.
He told his manservant to bring out four different Lamu chairs for us to inspect. We selected the largest and oldest one — it was very simple, with a carved back and ornamental seashells. The seat had been restrung, but Mr. Barton gave us a certificate of authenticity assuring us that "it was eighteenth-century and may have been made in India and brought to the coast by dhow, or more likely actually made in Lamu itself." He signed it "British Curator of Antiquities." We put the chair in the trunk of the car with our luggage and tied it down for the two-hour trip up the coast.
Norman and I were the only Americans staying at the Ocean Sport Beach Club, a popular and cheap tourist destination for Germans and Scandinavians. I was quickly bored with the beach, and my red hair and fair skin did not do well in the strong equatorial sun. While Norman sipped his Pimm's cup, I pulled out a brochure and read aloud that "the ferry to Lamu leaves once a day. There you can hear imams calling Muslims to prayer, and watch the red-colored sailboats drift in and out of the harbor."
I put on my well-rehearsed happy voice, hoping that Norman would agree to one last adventure. I saw myself leaning forward on the bow of the boat, my hand trailing in the azure blue water. Norman looked at me with a dismissive expression. "I've had enough. Let's stay put." He went back to reading a film script, and I watched a group of Germans flying brightly colored kites high in the late afternoon sky. I wanted to get up and run with them down the beach and catch the ferryboat to Lamu. Instead, I hid from the sun under an umbrella made of palm fronds and buried my nose in The End of the Affair.
When we got off the plane at Logan Airport in Boston, the Lamu chair tumbled down the luggage conveyor belt. We hadn't bothered to crate it, but having endured ocean voyages and colonial wars, it survived an eighteen-hour plane ride home. The same could not be said of our marriage. Like the Olduvai Gorge, we had discovered a rift in our marriage too large to ignore. Afraid to admit defeat, I hung on for another four years, but at the end, Norman and I recognized that our marriage was a country where we could never be more than strangers on a train. He asked for the chair, which surprised me, since it seemed so inconsequential to him at the time. But I guess that it made for a good story. After we divorced, I learned how to enjoy a new kind of freedom, and found a man who loved to hear me sing that mysterious Cole Porter standard, "Strange, dear/ But true, dear/ When I'm close to you, dear/ The stars fill the skies/ So in love with you am I."
Read the winner of our travel story contest: The Unlikely Frenchman by Katrina Turner