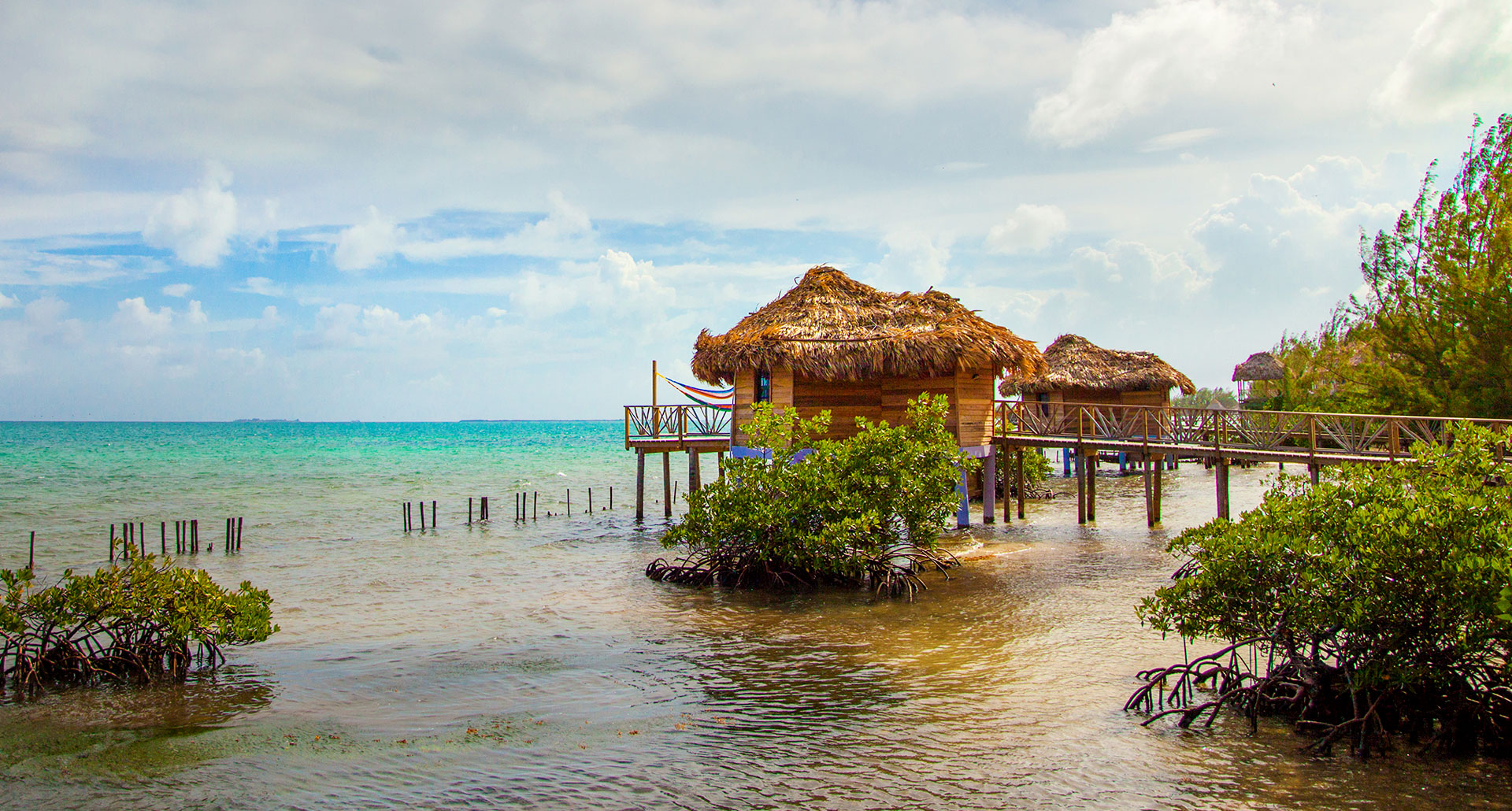 There's a lot to love about hotels on stilts. Unlike your past romantic partners, when your hotel room leaves you high and dry, it'll leave you with nothing but positive memories.
There are some things that you can totally rely on when it comes to stilt-born hotels. If your room is raised up, it's a good bet that you're near a large body of water, or high up in the canopy of a forest, or perched out over the side of a mountain. You're probably also enjoying unobstructed views and uninterrupted privacy. And it's damn likely that you're in a part of the world that is often called "paradise" — a word you wouldn't necessarily use to describe your stupid ex.
Sumba, Indonesia
Nihi Sumba is set on hundreds of acres of waterfront land, between a glorious private beach and the edge of a truly untamed jungle. And while in its present incarnation it's fantastically luxurious — its villas are the very picture of contemporary luxury elegance — it grew slowly from what was once a secluded surf shack, and there's still something unpretentious about the atmosphere as a result.
Portsmouth, Dominica
If you want to stay at a resort with three infinity pools and five restaurants, go to Barbados or Anguilla. If you want to hike through the rainforest and meditate at dawn on a treetop platform and sleep in a clifftop bungalow sustainably built with native tropical wood, you go to Dominica, nicknamed "Nature Island," and check into Secret Bay.
Coco Plum Range, Belize
A 25-minute boat ride from the mainland is the only way to get to Thatch Caye's private-island location. Once there, you'll find five overwater cabanas, four larger casitas with rooftop patios, and a single Family Villa, essentially a triple unit on stilts above the sea. There isn't a bad view to be had anywhere.
Armenia, Colombia
Here there are no mere accommodations, but Habitats — most of them suites, designed in an unapologetically modernist style, with vast picture windows that take in the expansive views of the surrounding coffee plantations, as well as outdoor terraces with sun beds. For those looking for total immersion, stay in one of the Aviaries, elevated structures tucked into the forest, with glass on all four sides.
Siem Reap, Cambodia
You didn't come to Cambodia to eat Italian food and sleep in a chain hotel. You're here for the temples, the markets, the Cambodian circus — and checking into a villa at Phum Baitang completes that immersive fantasy. The name means "green village," and it's an apt description. Thatched-roof wooden villas rise up on stilts amid landscaped gardens and paddy fields, and the large swimming pool, like a mirror, reflects the image of towering palms overhead.
Phuket Area, Thailand
Every villa at Keemala, on the edge of Phuket's coastal rainforest — perched just above the beach town of Kamala — comes with its own pool. Tree Pool Houses channel the aesthetic of the We-ha (Sky) clan, with two levels and suspended furniture, and the fantastical Bird's Nest Villas are elegant, futuristic birdcages built of woven wood and glass that look out over the sea and the forest.
Neuchâtel, Switzerland
Hôtel Palafitte is a South Pacific-style overwater bungalow hotel, located not in the Maldives but on the waters of Switzerland's Lake Neuchâtel, at the foot of the Jura mountains, with a stunning view of the Alps across the lake. It's an utterly futuristic execution of a timeless concept: farmers lived in houses on stilts above the waters of this very lake some five thousand years ago — but never quite like this.
Bagaces, Costa Rica
This sustainably built hotel takes its name, "lost river," from one of two waterways that converge in a dwarf forest in Costa Rica's San Bernardo Lowlands. The twenty bungalows, connected by a system of elevated pathways and hiking trails, stand on stilts near the edge of the two rivers' deep gorges. Built of stainless steel, they're stylish but efficient — and, of course, designed to make minimal impact on the environment.
Siem Reap, Cambodia
The Sala Lodges are no reproductions — these are authentic handmade houses, some fifty years old or more, transported from all across the Cambodian countryside and reassembled here on this site. The houses differ widely in style and plan, though all of them are elevated at least a few feet, in traditional Khmer style.
Jericoacoara, Brazil
Vila Kalango fits easily into the natural landscape: a mellow fishing village on the quiet northern coast of Brazil. Comprised of stilted houses and private bungalows made from eucalytpus, mud bricks, straw and locally sourced timber, the pousada sits squarely on the village's main beach.
Sihanoukville, Cambodia
This wild speck of a place in the Gulf of Thailand is as close to a state of nature as you're going to find anywhere, and Song Saa's twenty-seven villas make the most of their secluded setting — some stand overwater on stilts, Fiji-style; others stand on the beach, with the ocean's waters for a front porch, and still others nestle on the forested hillside, as sequestered as can be.
Tulum, Mexico
A stretch of wild, jungle-fringed coastline is the setting for Papaya Playa's 99 cabanas, huts, and shacks, left behind by a trio of now-abandoned hotel projects and adapted into a one-of-a-kind hotel. Here the vibe is much more "beachfront commune" than "design boutique" — the idea is to properly decompress, and get as close to the original, pre-tourism Tulum as possible.
North Male Atoll, Maldives
We could've populated this entire list with hotels from the Maldives, and in fact, we pretty much did just that when we recently profiled the islands' favorite type of structure: the overwater bungalow. Maalifushi by COMO is more of the same — in all of the best ways possible.