S
an Francisco isn't just the home of a certain apartment-sharing startup, it's also one of the busiest hotel markets in America, and one of the hardest places to build new hotels (those facts might not be entirely unrelated). When demand far outstrips supply, there aren't a lot of hidden gems left lying around — but if you want to look beyond the big chains and try something unique, we've got you covered:
Presidio
Inn at the Presidio
We'll start off with something you won't find anywhere else. Not many military bases can fairly be called beautiful, but the Presidio is the great exception. This decommissioned Army base occupies some of San Francisco's most desirable real estate, and the century-old Georgian Revival building that's home to the Inn at the Presidio is a charming example of restoration done right.
Union Square
Hotel Zetta San Francisco
A newcomer to San Francisco's hotel scene, the Zetta is just south of Market, which earns it high marks for convenience, with Union Square shopping, SoMa's tech companies, and the Financial District all close at hand. But inside, you'll find a clubhouse-like atmosphere that insulates you from the buzz of the city.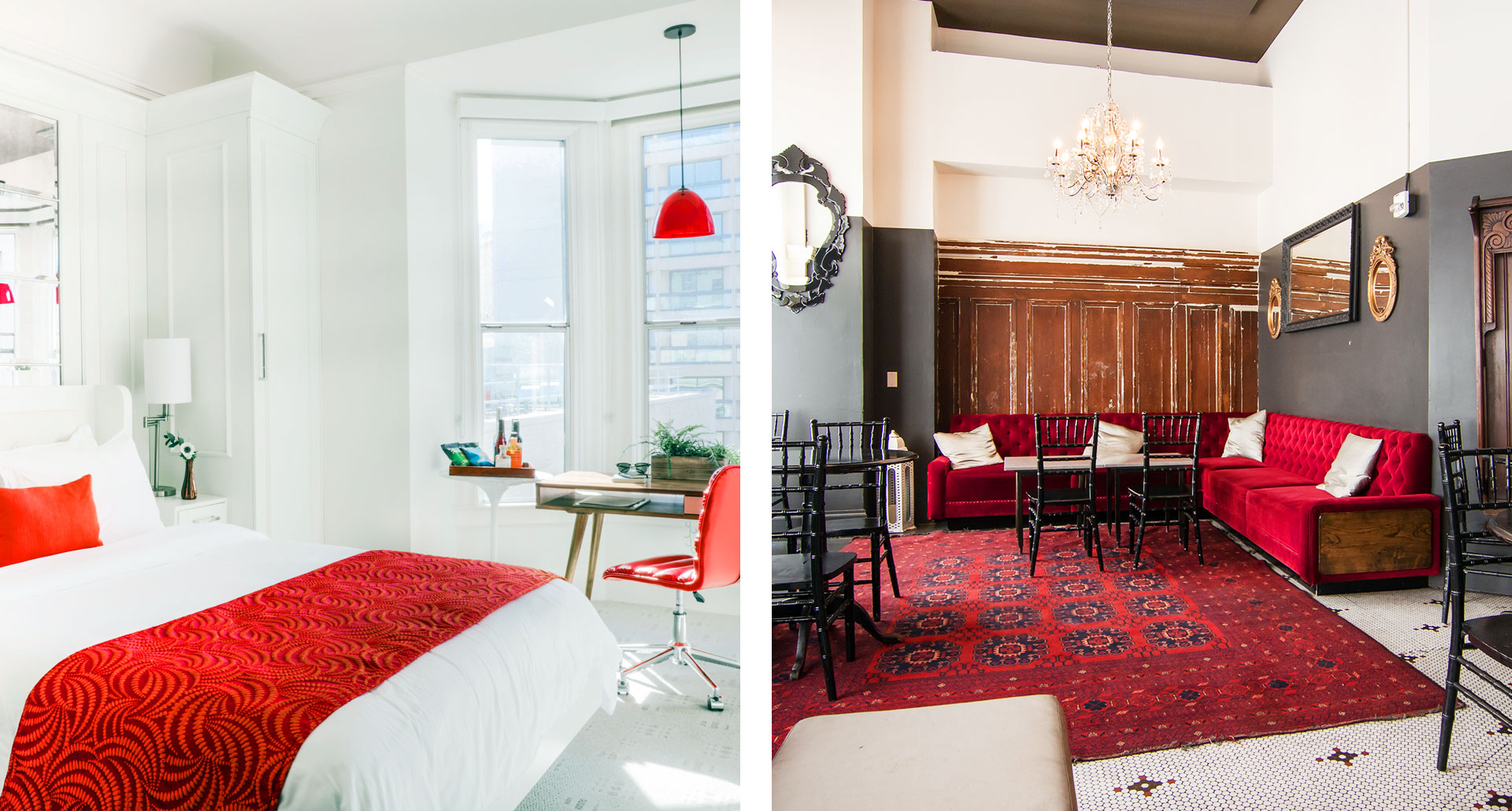 Union Square
Mystic Hotel
The Mystic (and its restaurant) may be owned by a celebrity chef — Charlie Palmer, of Dry Creek Kitchen fame — but it doesn't go in for big branding gestures. Instead it's a sensitive renovation of a 1906 building, leaving as much of the original architectural personality in place as possible, more akin to a classic prewar San Francisco apartment building than a typical boutique hotel.
Sausalito
Casa Madrona Hotel & Spa
Map aficionados may be aware that Sausalito isn't in San Francisco. But for the chance to spend the night in a bayside Victorian mansion (or its modern addition) just on the other side of the Golden Gate, and still be only 15 minutes by ferry from the heart of the city, we're happy to expand our definition of "urban."
Union Square
Clift Hotel
The original Schrager/Starck San Francisco collaboration is no longer the new kid on the hospitality block, but it's still going strong — the Clift's once-novel blend of dramatic and whimsical public spaces and low-key, stylish guest rooms has matured into something of a modern classic.
Japantown
Hotel Kabuki
If you're wondering how seriously to take San Francisco's Japantown district, the Kabuki is your answer — this Joie de Vivre production has turned a one-time chain hotel into the most authentically Japanese lodging we've seen this side of Honshu. From here it's a short walk to the music venues, restaurants and shops of Fillmore Street.
Fishermans Wharf
Hotel Zephyr
Hotel Zephyr is another new addition, and another conversion of a formerly anonymous chain hotel into something with a bit of individual character. This one hit the jackpot in the location department — Fisherman's Wharf may be a bit of a tourist trap, but to have views of Alcatraz and the Golden Gate Bridge is no small thing.
Union Square
Hotel Zeppelin
Another one for the end of the alphabet. Union Square's Hotel Zeppelin is meant to evoke the rock band, not the airship, and its interiors are suitably bohemian and edgy. The same can be said of the location — you're at the frontier between busy Union Square, tony Nob Hill and the still-wild Tenderloin.
Embarcadero
Hotel Vitale
One of only a few completely new hotels to open in San Francisco in recent years, Hotel Vitale somehow got its hands on a phenomenal downtown waterfront location, just across Embarcadero from the Ferry Building. Add a good restaurant, a rooftop spa, and a dose of stylish contemporary design, and you're in business (or pleasure).
Union Square
Galleria Park
Joie de Vivre strikes again, this time in the most business-friendly of locations, where Union Square meets the Financial District. It's partly an homage to the Art Deco and Art Nouveau heritage of classic San Francisco, and partly an up-to-date, contemporary boutique hotel.