S
ometimes you just want to get away, and do it with as little hassle as possible. Flying halfway around the world tends to cut into your relaxation time. Find your (American) city below, and see what we picked for a quick escape nearby — as well as an in-town option for an even quicker getaway.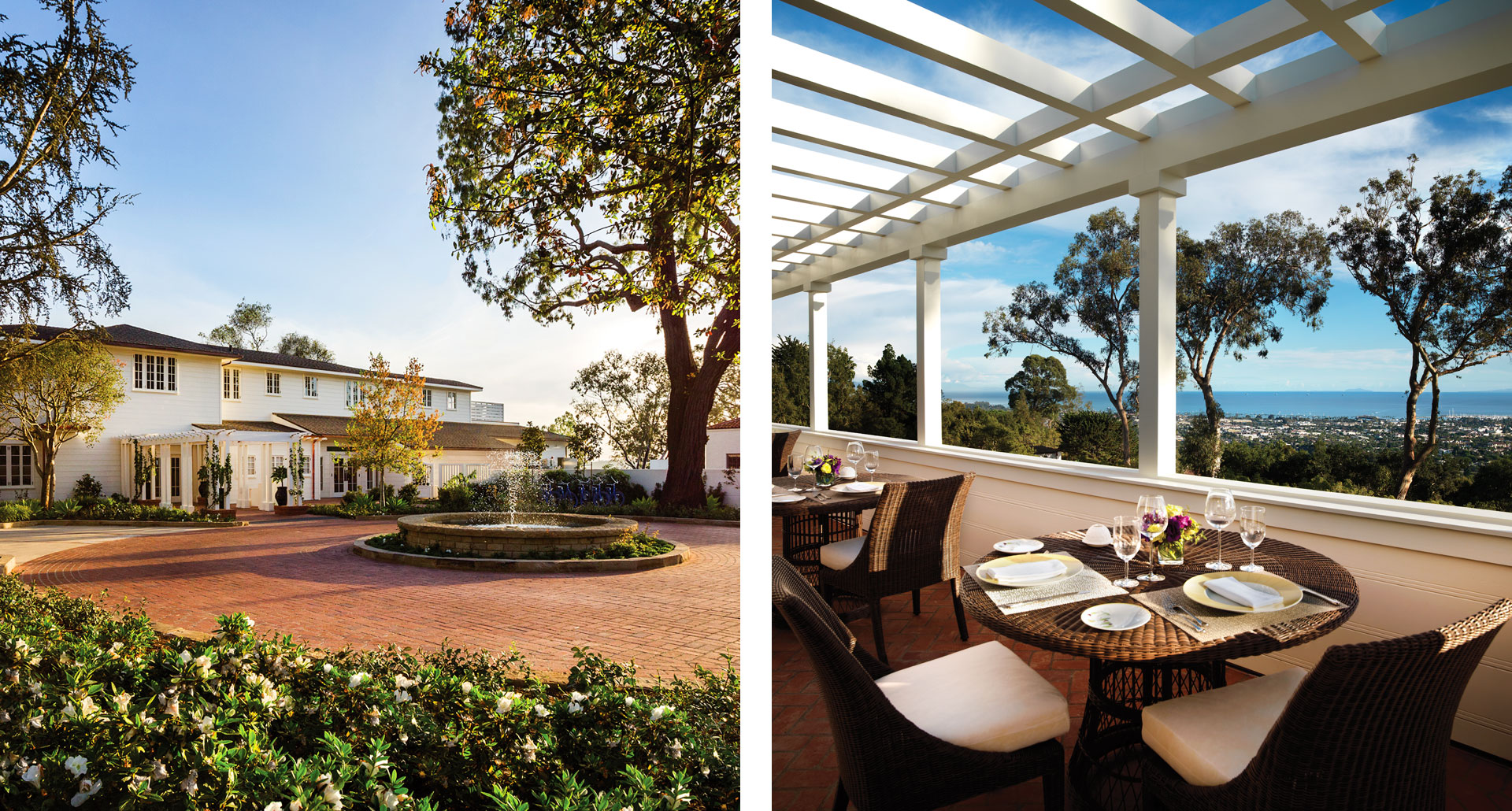 Belmond El Encanto
Get Out of: Los Angeles
Santa Barbara has all the charm of Los Angeles's seaside communities, without everything else that makes Los Angeles so overwhelming. El Encanto is enchanted indeed — and the Tablet Plus treatment makes the good life even better.
Or stay in Los Angeles: the Petit Ermitage may be right in the heart of West Hollywood, but it's one of just a few places within the city limits that you can properly get away from it all (in a memorable Russo-Venetian style, to boot).
Ruschmeyer's
Get Out of: New York
Ruschmeyer's is a retro Montauk summer camp for grown-ups, cinematically styled and positively dripping with nostalgia. The fact that a place like this lies at the end of the Long Island Railroad is decisive evidence that New York truly is the greatest city in the world.
Or stay in NYC: after all, in August, the place is a ghost town, and the surprisingly green 1 Hotel Central Park feels handmade and organic — and is, as the name might suggest, about a block from Central Park itself.
The Inn at Perry Cabin
Get Out of: Washington DC
If you've had enough of all things D.C. at the moment, we can't blame you. The Inn at Perry Cabin, on Maryland's Eastern Shore, is now a Belmond operation, which means it combines classic Colonial atmosphere with all the trappings and professionalism of a modern luxury hotel.
Or stay in Washington: the 49-room Rosewood is a small-scale luxury hotel that'll enable you to hide out in plain sight in Georgetown, under the care of your own hotel-assigned personal assistant.
Sanderling Resort
Get Out of: Richmond
North Carolina's Outer Banks are like a softer, sandier version of Cape Cod, but with fewer tourists and a faint Southern accent. Three hours' drive from Richmond puts you in an impossibly idyllic seaside resort with a perfect mix of elegance and charm.
Or stay in Richmond: the brand-new Quirk Hotel is a spinoff from a successful local art gallery, and it's proof that the city's contemporary culture is absolutely thriving.
The Wheatleigh
Get Out of: Boston
An Italianate mansion right in the middle of the Berkshires, the Wheatleigh has a restaurant that's arguably more famous than the hotel. And with a park by Frederick Law Olmsted, and next door the classical-music nirvana of Tanglewood, it's proof that high culture, in the Northeast, is not strictly an urban affair.
Or stay in Boston: XV Beacon has been a Tablet favorite since the beginning, proof that a modern design hotel can thrive in ultra-traditional Beacon Hill.
Surfsand Resort
Get Out of: Portland
Bring a wetsuit if you're actually here to surf — Cannon Beach, an hour from Portland, is Pacific Northwest unpretentiousness at its finest. And with the iconic Haystack Rock right outside, the views are something extraordinary.
Or stay in Portland: Riverplace Hotel feels like a genteel country house, or a rustic mountain lodge, in spite of the fact that it's located in the city center, right where downtown meets the Willamette River.
Blackberry Farm
Get Out of: Nashville
One of America's finest rural getaways is located in Tennessee's Great Smoky Mountains. No, not Dollywood — we're talking about Blackberry Farm. Come for the mind-blowing farm-to-table Southern cooking, stay for one of the country's most extraordinary small luxury hotels.
Or stay in Nashville: Music City is a surprisingly cosmopolitan place, and the stylish, contemporary city-center Hutton Hotel is all the proof you need.
Carmel Valley Ranch
Get Out of: San Francisco
The fact that San Franciscans seem so focused on migrating northward to the Napa and Sonoma valleys makes California's Central Coast all the more appealing — and the venerable Carmel Valley Ranch, now under the direction of Joie de Vivre, is a thoroughly modern luxury resort.
Or stay in San Francisco: Hotel Zetta San Francisco, just across Market from Union Square, could hardly be more urban, but a night at the shufflepuck table, cocktail in hand, is a recipe for total relaxation.
The Inn at Palmetto Bluff
Get Out of: Charleston
Midway between Hilton Head and Savannah, Georgia, the Inn at Palmetto Bluff features sprawling indoor-outdoor luxury, classic Southern hospitality, a Jack Nicklaus signature golf course, and access to all the Low Country's outdoor pursuits, from sailing and nature walks to the hotel's own island beach club.
Or stay in Charleston: Zero George is Charleston in a nutshell, three beautiful 1804 residences (and two carriage houses) gone upscale, with a fine New American restaurant to top it off.
Hotel Fauchère
Get Out of: Philadelphia
Hotel Fauchère, in Milford, looks like something straight out of American Gothic, the Platonic form of the rustic Pennsylvania farmhouse. But venture in and you'll find a boutique hotel that's a lot more contemporary and cosmopolitan than you'd expect, complete with a first-rate restaurant and patisserie.
Or stay in Philadelphia: now that the Democratic convention has cleared out of town the Kimpton group's Hotel Monaco is once again ready to serve the rest of us with a lively blend of 1906 gentility and modern-boutique whimsy.
Camp Comfort
Get Out of: Austin
A former bowling alley, Camp Comfort is now a boutique bed and breakfast, with a hip adult summer-camp vibe that's well worth the drive from whichever Texas metropolis you call home.
Or stay in Austin: Hotel Van Zandt is the Kimpton group's first venture in the Texan capital city, and features their trademark laid-back luxury, as well as a restaurant that plays host to the famous local music scene.